Vertically Striped Socks is proud to present a short story by The Ed. The Ed is a a one of a kind individual from Las Vegas, Nevada. He is also one heck of a wordsmith. If you'd like to read more about him, you can read

this story

I posted about him back in May.
I have presented his story without editing, as part of the charm of the Ed is his all-caps typing and somewhat creative spelling techniques. Enjoy the story!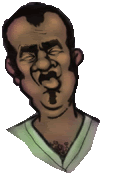 THERE WAS RAIN COMING DOWN OUT OF THE SKY AND PEEPLE WAS RUNNING AND JUMPING TALKING ABOUT HOW IT WAS SAPOSSED TO BE SUNNY TADAY. BILL WEATHERMAN WAS WRONG, HE HAD PRADICTSHINED RAIN FOR 56 DAYS IN A ROW AND TADAY HE SAID THERE WASNT GONNA BE NUN, AND THERE WAS....JESUS CHRIST PEEPLE GOT MAD AND RAN FOR THE HILLS....THEN OUT OF THE BLUE A BLUE RACE CAR BLEW BY PEEPLE SO FAST THAT IT WAS LIKE WHEN THE WIND WAS BLEWING REAL FAST DOWN THE STREET. THIS DAY WAS WILD AND IT WAS JUST THE BAGINNING.....
A LITTLE KID STOLE A KIT KAT FROM WALGREENS AND 45 PEEPLE WERE CHASING THIS DANG KID...NO ONE CULD CATCH HIM, HE WAS FASTER THAN DEION SANDERS....THE KID RAN INTO A APRTMENT COMPLEXION AND TOLD A LADY HE NEEDED HELP ....SHE STARTED UNDRESSING AND HE RAN AWAY EVEN FASTER, PROBLY BECUZ SHE WAS 67 YEERS OLD...YUK....!!! THE BOY THEN RAN PAST KFC AND THEN THOUGHT ABOUT GOING BACK BUT SAW A PITURE OF KENNY FROM SOUTH PARK AND HE DIDNT WUNT TO DIE LIKE KENNY ALWAYS DID...SO THE BOY KWPT RUNNING AND HE WAS GONE IN A FLASH...2 HOURS LATER A GIRL WITH 1 LEG AND 2 ARMS WAS HBBLING DOWN THE ROAD WITH HER DOG, JIMMY THE DOG. THEY WAS WALKING AND HOBBLING AROUND AND THE GIRL WAS WONDERING WHAT WENT WRONG WITH HER LAST JOB THAT SHE GOT FIRED FROM..
SHE USED TWO WORK AT THE TACO BELL OVER ON 10TH STREET BUT GOT FIRED BECAUSE SHE FORGOT WHERE SHE WUZ AND WHEN SHE WAS WORKING THE DRIVE THRU WINDOW, SHE SAID, WELOCME TO BURGER KING MAY I HELP YOU, WELL BURGER KING WAS WHERE SHE USED TO WORK SO THE TACO BELL PEEPLE GOT REEL MAD AND TOLD HER IF SHE CULDNT GET BURGER KING OUT OF HER HEAD THEN SHE HAD TO GO...SHE LEFT BECUZ SHE REEELY LOVED BURGER KING...
AFTER 4 MORE DAYS OF RAIN BILL WEATHERMAN QUIT HIS JOB AT THE LOCAL TV STATION AND TOOK THE GIRLS PLACE AT TACO BELL, HE WAS WORKING THE DRIVE THRU AND WAS A BOUT TO HAND THE ORDER TO THE PEEPLE WHO ORDERED , BUT A FLASH OF WIND BLEW BY THEM AND IT WAS THE BOY WHO WAS STILL RUNNNING FROM ALL THE PEEPLE AND HE HAD BEEN RUNING ALL OVER TOWN FOR 4 DAYYS....WUNCE HE GOT THE FOOD HE SLOWED SOWN TO TAKE A BITE AND THE COPS NABBED HIM..THEY HAD THEIR MAN AND THEY DROVE HIM TO JAIL.....THE END
The Ed