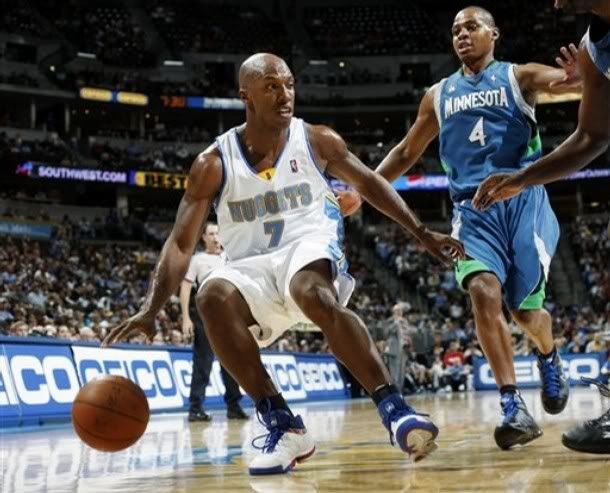 Can Chauncey keep the Nuggets train rolling? Gosh, I sure hope so!
In the "How about that department" I give you your Kentucky Derby winner Mine The Bird. I think it's cool that a 50-1 shot won the Derby, it makes me feel like there is hope for the ridiculous underdog in the air, which is good news when you're a Nuggets fan about now.
How great is it that the Nuggets won Game 4 against the Hornets by 58 points? Some people might say that they were being unsportsmanlike by running up the score. I say, when you have a team with a history of being headcases and giving up gigantic leads, you keep your foot on the floor at all times, and let up after the series is over.
It's a good feeling to see the second round of the playoffs starting, and still have your team be in it. That's a feeling I haven't had since I was a Senior in High School, so I'm definitely not used to it. I said at the beginning of the season that my highest hopes for the Nugs was that they would make the second round, but now I'm getting greedy and will only be satisfied if they make the Conference Finals. (I'm realistic enough to not really expect them to beat the Lakers should they make it that far, but it doesn't mean that I'm not hoping for something like what Mine The Bird pulled off today.)
I'm a little bit bummed that the Baby Bulls couldn't pull off the huge upset in Game 7 in Boston, but they are already the big winners of the playoffs, and they didn't even win their series. It's hard to imagine that anything else we see this postseason is going to compare with the series of Games that the Bulls and the Celts just concluded. Four overtime games, including one double overtime and one triple overtime, and a game decided on a last second shot?? That kind of drama is unheard of outside of Disney movies, and it really happened. Too bad that it was only a first round series, if something like that happens in the conference Finals or the Finals it becomes a legend of mammoth proportions.
It's been a little over a week, and although I still feel like Josh McDaniels make a huge mistake in taking Knowshon Moreno, I am rather excited that he is going to be on my team. I have a feeling that he could be special, and I love the fact that he and the Broncos consulted with the family of Darrent Williams before he took the number 27. No one has worn that number since Williams was killed a few hours after the Broncos were knocked out of the playoffs by the 49ers on the final day of 2006. The coolest part of the story is that all the Williams family asked Knowshon to do is to spend a few hours every month helping out at the Darrent Williams youth center helping to mentor kids. So far, so good on the Knowshon era, I feel like getting a 27 jersey or else renaming my son Knowshon.
I have been monitoring the NHL playoffs, although I'd be lying if I said I've been doing it terribly closely, but there are a few stories that I have enjoyed. The Chicago Blackhawks, much like my Nuggets, are tasting the second round of the playoffs for the first time in a long time. They haven't made it this far since the Avalanche played their first season in Denver and knocked them out in the second round en route to their first Stanley Cup. I find myself cheering for the Hawks for a myriad of reasons. I have a lot of family in the Chicago area, I have been to a few Blackhawk games at the United Center, they are a huge traditional rival to the hated Red Wings, they have some wicked cool uniforms. All of these factors have turned this team into my adopted playoff team this year, and I hope they can take out the Canucks and keep the dream alive.
Although I don't really have a huge vendetta against the New Jersey Devils or their goaltender Martin Brodeur, for some reason it brought a smile to my face when I heard that in the final 80 seconds of the Devils' Game 7 against the Carolina Hurricanes that the Devils went from up in the game 2-1 to out of the playoffs with a 3-2 loss due to two soft goals let in by Brodeur. I think the reason that it made me so happy is because it's another reason to say that Brodeur is inferior to my favorite Goalie of all time, Mr. Patrick Roy. I feel that to say Brodeur is a better goalie than Roy is utter nonsense, and now I have even more ammunition.
Speaking of Patrick Roy, how goofy is it that when I was watching the Portland Trailblazers against the Rockets in their first round playoff series every time I saw Brandon Roy, I wanted the announcers to say his last name with the French Canadian pronounciation? How much cooler would the Blazers be if Roy's name was pronounced Brandon Wah?
With the Celtics looking like they won't have KG and also having lost Leon Powe, and the Magic not looking terribly impressive against a lackluster 76ers team, is there any way that LeBron doesn't make his second Finals appearance this year? Last time he made it, it seemed like a miracle against the seemingly superior Pistons two years ago. This year it feels more like an inevitability that the Cavs make it, and I think he goes one step further this year and wins the whole thing.
If anything good can come of the economic downturn, perhaps it will lead to the demise of the WNBA. That league was hemmoraging money in a good economy, and is the first sports league in history that is being kept alive strictly due to political correctness. The only reason it is still afloat is due to the NBA keeping it on life support. I have to believe that pressure is mounting on David Stern from NBA owners in a down economy being less and less keen on spending the money to keep this unpopular league running. This may make me a bad person, but I really dislike the WNBA, and keep hoping that someone pulls the plug. I know, they aren't hurting me, and no one is forcing me (or anyone else) to watch it, but for some reason, the fact that this league even exists annoys me.
Please Brett Favre, for the sake of everyone who listens to Sports Talk radio, stay retired. You were terrible at the end of last season, and no one wants to see you don Vikings purple. It's not like I can take you too seriously right now anyway, but if you come back to the NFL again for Minnesota, that will officially be too much. Don't tarnish the legacy any further, please just keep mowing lawns and tossing footballs to High Schoolers in Mississippi. Please, I'm begging you.