If my prediction for the Hawks-Niners comes true, we will see a scene like this at the end of an exciting game.
I feel like I shouldn't be surprised by results very often at this point of the season, yet the resurgence of the Titans, the collapse of the Giants, the fact that the Steelers lost in Kansas City, and the fact that the Buffalo Bills do things like beating Miami and Carolina just go to prove that despite the fact that I think I have my finger on the pulse, I really am not nearly as smart as I think I am. Which is sad, because I don't think I'm very smart at all. My crystal ball is in the shop this week, so all my picks come from knowledge gained from a Zoltar machine. Rather than wishing to be big…and honestly, I'm big enough, I wished to go 16-0 in Week 13. Sure, some might wish for Peace on Earth, Goodwill to men, but I thought I'd start small.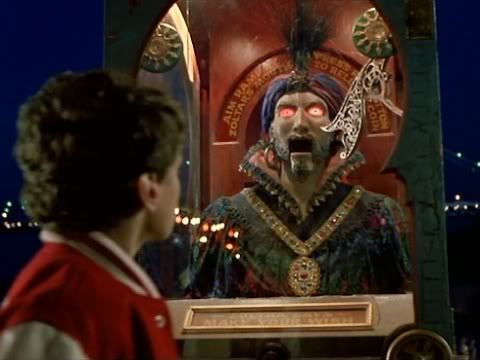 If only Zoltar had told Tom Hanks to avoid Dan Brown movies. Oh well.
Philadelphia at Atlanta – This is a pretty important game in the NFC Playoff race, yet what do you bet the large majority of the hype will surround a quarterback who has thrown 9 passes and rushed 15 times all season. Yup, Mike Vick returns to Atlanta to mostly watch a game. I still can't figure out why the Eagles signed him, took the flack from the PETA types for it, and yet refuse to really do anything with him. My best guess…he has nothing left, and they wish they could go back in time and NOT make that move. As to the game…I think the Eagles are much better than the Falcons.
Eagles 27 Falcons 16
Saint Louis at Chicago – If ever a team needed the Rams to come in so that they could start rebuilding their confidence, it's the Bears. I'm guessing that the Sacrificial Rams will do their duty and get thumped as is their custom, but how pathetic is the situation in Chicago if they can't even beat Saint Louis at Soldier Field? Although I'll be rooting for a Rams win and the accompanying Bear (Specifically Cutler) strife, I don't think it happens, although I'm guessing Jay Cutler throws an interception in the Red Zone. It wouldn't be a Bears game without that!
Bears 23 Rams 6
Detroit at Cincinnati – The Lions just don't have the firepower in this game against the Bengals. Cincinnati wins the battle of the big cats easily.
Bengals 39 Lions 17
Oakland at Pittsburgh – Since trouncing the Broncos in Denver on a Monday night, the Steelers have looked helpless and hopeless as they have dropped three in a row. Dennis Dixon looked credible against the Ravens as the starting quarterback, but the champs need to get Ben Roethlisberger back ASAP if they want to stay in contention. They might even be in trouble this weekend if they had a real team coming into town. Bruce Gradkowski is a subpar quarterback, and yet he is a massive upgrade to what the Raiders had been putting behind center with Jamarcus Russell. I'll guess the Raiders are able to keep it moderately close, but the Steelers can't lose this game, they just can't.
Steelers 28 Raiders 20
Tennessee at Indianapolis – This is perhaps the most interesting game of the weekend. Since opening the season by dropping their first six, they have started to look like a bonifide contender winning the next five in a row with Vince Young taking over for Kerry Collins. The Colts are on a pretty solid run of their own, having won their last 20 regular season games in a row. That's a pretty good streak. All good streaks have to come to an end, and why not…for the second straight week, I'm going to predict a Colt letdown. It's bound to happen eventually, and with the white hot Titans in town, now is as logical a time as any. (Although I'd prefer the Broncos be the ones to snap that streak next weekend.)
Titans 27 Colts 24
Denver at Kansas City – On paper, this looks like an easy win for my Broncos. However, they don't play these games on paper…they play them inside TV sets, and on TV, anything can happen. I am terrified of the Chiefs this weekend. The Broncos are 1-17 all time against the Chiefs in Arrowhead in December, so please forgive me if I don't automatically chalk this one up as a win. The Broncos desperately need it, and the Chiefs are truly a sad sack group of players, but I have a terrible feeling about it. In fact, I'm just flat out going to call it a KC win. If you think I'm trying to jinx Kansas City, you're right, but I'm also legitimately afraid that I'll be right.
Chiefs 31 Broncos 28
New England at Miami –The Dolphins have to be reeling after dropping a must win game to the Bills last week. At 5-6 it's not impossible that they could make a playoff run, but it's certainly not likely. I think the Pats need to get back on track after getting pistol whipped by the Saints. Belichick's boys get a little of their groove back in South Florida…hopefully it's their only trip there this football season, as I really don't want XLIV's party to be crashed by New England.
Patriots 31 Dolphins 21
New Orleans at Washington – The Saints are actually afforded motivation that most teams flirting with perfection do not have. They want to make sure that if they play in the NFC Championship game that it will be held in Louisiana, and the only way they can guarantee that is by continuing to win. The Vikings are actually hot on their heels. Whether or not that is a positive for the team is in the eye of the beholder, but one thing is certain: The Saints have a reason to be motivated to win. The Skins have only won one of their past seven (Against the Broncos, of course), but they have not looked completely inept. They just keep managing to snatch defeat from the jaws of victory week after week. I don't think they need to worry about losing close this week.
Saints 37 Redskins 9
Tampa Bay at Carolina – The Bucs cupboard is pretty bare, but the Panthers quarterback situation is even more dire. How bad is it? It's so bad that not having Jake Delhomme this weekend (due to a broken finger) can actually be categorized as a BAD thing. That's pretty sorry. Apparently someone named Matt Moore is going to be behind center for the Cats. Yeah, I've never heard of him either. Actually, I shouldn't just automatically assume that because some scrub whom no one has ever heard of before is going to be taking the snaps for Carolina that it's worse for the Panthers than if Jake was back there. There is a 50-50 chance that the Geico Gecko would be an improvement over the way Jake has played this season…plus Carolina could save up to 15% on car insurance, which is nice. No matter how you look at this game, you probably won't want to look at it for very long. I'll go with my heart on this pick, since my brain has very little interest in the contest. Since Josh Johnson matriculated at Kansas State, a school I attended and of which I have fond memories, I'll take the Buccos in a bit of an upset.
Buccaneers 20 Panthers 13
Houston at Jacksonville – Despite the fact that the Jags have a better record, the Texans have lost three in a row, and the game is in Florida, I'm going to run like mad away from the Jaguars. I continue to maintain and shout from the mountaintops to whoever will listen that the Jags are just not very good. I refuse to believe in them, even if they have six wins. They are not very good. To be fair, I'm not sure the Texans are any good either at this point, but I'm going to put my pick where my faith lies…which is NOT in the Jags.
Texans 27 Jaguars 17
San Diego at Cleveland – Quietly, the Chargers are completely stomping teams and looking like world beaters. The Browns are a monumentally crappy team, and their home crowds look depressed rather than excited to be there. If I were cheering for the Browns, I might be down as well. In what I predict to be the biggest thumping of the weekend, Chargers roll.
Chargers 42 Browns 3
Dallas at New York Giants – The Cowboy way in recent years is to fall apart at the end of the season. I feel like they had their swoon a little earlier this year, but were able to get through it with some wins thanks to a creampuff schedule. I'm looking for them to reverse the late season collapse starting in the Meadowlands on Sunday. I watched the Giants last game on Thanksgiving, and that was a team that looked disinterested in being physical as the Broncos pushed them all over the place. Perhaps that was an isolated incident, but I've lost faith in the G-men. Even with history and home field advantage working against this pick, I'll take the team that has won 6 of their last 7 over the team that has lost 5 of their last 6.
Cowboys 23 Giants 16
San Francisco at Seattle – Seahawks games haven't been close very much all season, but they're due for a nail-biter. I'll take the Hawks at home in a game where I'm going to get super specific and predict overtime will occur.
Seahawks 23 49ers 20 (OT)
Minnesota at Arizona – The Vikings have looked awesome, but they have not faced too many teams that have the potential firepower of the Cardinals. I say potential, because I don't know for certain whom will play quarterback for Arizona. If Kurt Warner is able to come back from his concussion issues and play at his best, I think this is a close game…a score that is within a touchdown seems likely. (I'll take the Vikings to win either way.) However, if it's Matt Leinart, I'm less enthused about the Cards chances. I'm guessing Leinart gets the start, although Arizona Head Coach Ken Whisenhunt isn't saying. With that massive bit of conjecture, I'll pick Minny to stay on their hot run. Oh, and for the love of God, Adrian Peterson, please stop fumbling the ball. I need Brad Childress to keep his faith in you so that you can put up your usual massive numbers for my fantasy team, without AP, my team is hopeless. I'll channel my inner Princess Leia here, "Help me Adrian Peterson, you're my only hope!"
Vikings 33 Cardinals 22
Baltimore at Green Bay (Over 44.5) – Ray Lewis can still shake his groove thing in pre-game introductions, but the defense he's leading is a shell of it's former self. That, more than anything else, is to me why the Ravens have fallen from one of the best teams in the league to fighting for one of the last wild card positions. Both of these teams are tough to figure out, because the Packers are playing better than I expect and the Ravens have been playing worse than I expect. Either way, what I do expect out of the Monday Night game is an interesting contest between two teams that are desperately hunting for a wild-card spot. Here's hoping the game is as good as I expect.
Packers 31 Ravens 28
My Picks Scorecard:
Thursday Night: 1-0
Season to Date: 115-62