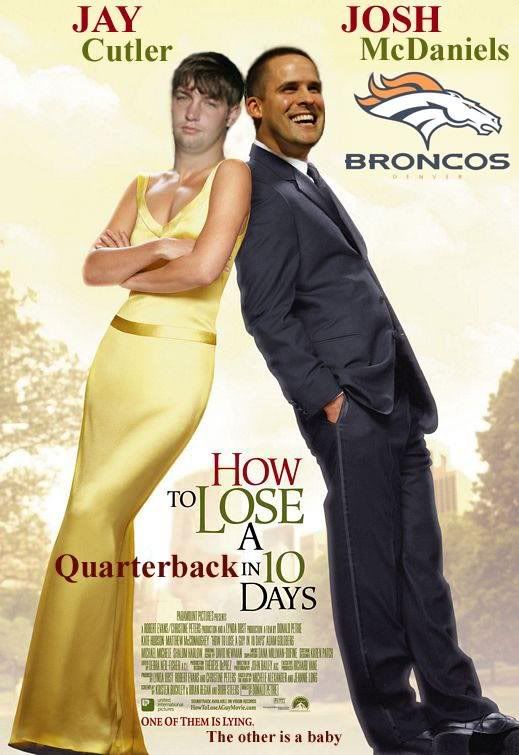 My football team has descended into madness. Rarely in the history of football has a team so quickly alienated a young stud quarterback just entering his prime to the point that he needed to be shipped out of town. How did we get here so quickly? Let us retrace the inept steps...
Flash back to early December, Mike Shanahan was in control of the Denver Broncos. Jay Cutler was the young stud quarterback with tons of upside who was still growing into his potential for the team. The defense was pretty awful, but they still held a three game lead over the 5-8 Chargers with three games to play and all the Broncos needed was one win or one Chargers loss, and they would clinch a playoff birth. No one was expecting them to make it very far into the postseason, but it was pretty much expected that they would make it.
Let us review the carnage since…
The Broncos get popped by the Panthers in Carolina 30-10 a few hours after the Chargers convert an onside kick and come all the way back to defeat the Chiefs, they lose to a dreadful Buffalo Bills team at Invesco Field while the Chargers throttle Tampa Bay, and then in the final week of the regular season, the Broncos get lambasted in San Diego 52-21. A few days later, Pat Bowlen decides that franchise stability is overrated and it is time for a change. Shanahan is kicked to the curb, and twelve days later a fresh faced 32 year old assistant named Josh McDaniels from the mighty New England Patriots is plopped into the situation and declared Head Coach and chief bottle washer. Bronco Country is skeptical of the young buck, but hope for the best.
In his first signature move as head coach of the Broncos, Josh alienates his young stud quarterback by being a day late and a dollar short on a less talented but more familiar quarterback. In his play to reunite with Matt Cassell whom he had, "done coached up real good back in Boston" Coach McD ticked off the talented but moody Cutler. This non-trade set off a month of he said she said stories in which Cutler came off as a whiny baby and the coach came off as a manipulative liar incapable of appearing truthful. Cutler keeps whining and demanding a trade, and then it is revealed that the Broncos will keep Cutler as their quarterback until a few days ago when the owner came out and said that Cutler hadn't returned anyone's calls, and the Broncos had no choice but to seek a trade. Followed by a story the next day in which an apparently shocked Cutler says that no one has tried to call him, and he is shocked by this whole turn of events and he never really wanted to leave.
Then, yesterday afternoon, the Broncos announced that they had traded Jay and a 5th round pick in next year's draft to Chicago for Kyle Orton (shudder) along with the eighteenth overall pick this year, a third round pick this year, and the Bear's first round pick next year. I actually feel that is a pretty good trade for the Broncos, and hope that Josh does a better job of scouting players in the draft than he does of coach-quarterback relations. However, I can't help but feel sad that the situation has come to this. There is a shortage of rocket armed 25 year old Pro Bowl quarterbacks in the league, and Kyle Orton does little to excite this Bronco fan.
This has been an ugly situation in which no one comes out the winner. Jay Cutler has now earned a reputation as an entitled cry baby, Josh McDaniels has blown through his honeymoon period faster than any coach in recorded history, and Pat Bowlen has lost a little luster as one of the stalwart owners in the NFL. The only winners I can see in this thing are the Chicago Bears who, although they paid a high price for it, now have their first legitimate quarterback since Jim McMahon.
My prediction for the upcoming season?
Pain.
At least pain if you are a Broncos fan. I have much hope, but little faith in Josh McDaniels. I remember how bad the defense was last season, and now I am looking at an offense that will likely be lacking Brandon Marshall for half the season and be quarterbacked by Kyle Orton. This is not a prescription for success, and my guess is that the 2009-2010 Broncos will not find much in the way of wins in the upcoming season. As for the Bears, I see them winning the NFC North and maybe a game in the playoffs, but not having quite enough to contend for a Super Bowl Championship.
I learned this week that to honor the 50th anniversary of the AFL that the Broncos would be wearing their Brown and Yellow vertically striped sock uniforms from 1960. In that season the Broncos finished 4-9-1 and in last place in the AFL Western Division, apparently the plan for the Broncos this season is to honor the memory of those uniforms by being as terrible in present day as they were when they last wore the brown helmets. Best case scenario, the Broncos have a great draft, Kyle Orton matures under Josh McDaniels leadership, and the Broncos eek out an 8-8 season. Worst case (and sadly, not entirely unlikely) scenario…"With the first overall pick in the 2010 draft, the Denver Broncos select…"
The saddest part of all is that in a period of four months, my team has gone from a solid NFL team to the new Oakland Raiders. It's going to take a while to wash the stink of this whole affair off of the franchise. We may be hearing, "Fire Josh" chants before October even gets underway. I'm so depressed.